Tag: Ian Boothby
by Egoslut on Jul.01, 2009, under Blogging, Comedy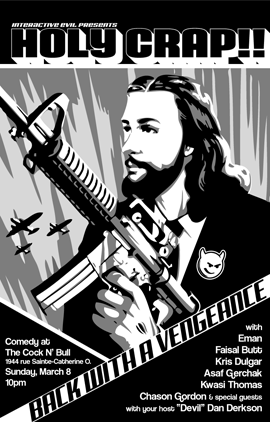 Hey Internet! So, if you follow any of this regularly or have seen any of my other sites, you know that in my offline world I'm a stand-up comic. I have been doing it off and on for over 20 years but only in the past year or two have I really taken it seriously. Comedy is a fantastic outlet, personally. I love everything about it; the writing, performing, promoting, comedians themselves. Everything!
I got into it when I was in college. I have been performing in some way ever since I was a kid. I started with music. Later, I got into theatre which led to me going to college to get my theatre degree. While I was there I met my friend Ian Boothby, a brilliantly funny guy. He was doing stand up regularly at Vancouver's original comedy venue,  (continue reading…)
Leave a Comment
:Comedy, hecklers, Holy Crap!, Ian Boothby, Kris Dulgar, stand-up
more...