by Egoslut on Jul.01, 2009, under Blogging, Comedy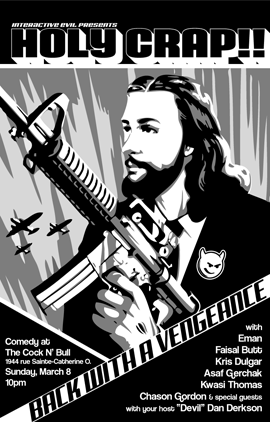 Hey Internet! So, if you follow any of this regularly or have seen any of my other sites, you know that in my offline world I'm a stand-up comic. I have been doing it off and on for over 20 years but only in the past year or two have I really taken it seriously. Comedy is a fantastic outlet, personally. I love everything about it; the writing, performing, promoting, comedians themselves. Everything!
I got into it when I was in college. I have been performing in some way ever since I was a kid. I started with music. Later, I got into theatre which led to me going to college to get my theatre degree. While I was there I met my friend Ian Boothby, a brilliantly funny guy. He was doing stand up regularly at Vancouver's original comedy venue,  Punchlines. It doesn't exist anymore and it's too bad really. It was an amazing place.
Mondays at Punchlines were open mic nights. For the uninitiated, open mic nights are the nights that anyone can get up and perform. They're also called amateur nights, though you'll also see a lot of pros and semi-pros going and trying out new material. They are probably going to be the most memorable comedy nights you can see, because most of the time you will see stuff there you won't see any other time. Most of it for the worse, but it's so awesome for that benefit alone.
Anyways, at that club, the standard protocol was to show up at 6 to try and get a space on the show which then happened later that night. So, I went down to watch Ian. We got there at 6. He signed up for the show and then we went out and grabbed some dinner while waiting for the show. Him and I were talking about comedy the whole time. He said to me at one point, "You really should try stand up some time. I think you'd love it." (Or something along those lines, this is all from memory, people he may have said "you really need a breath mint"… but we'll just go with it for the sake of the story) I said that would really like to try it. He said, "Great, because I signed you up." After getting over the initial shock of it all, I put on my big boy pants and tried stand up for the first time.
Now to say that I was bad is an insult to bad comedians. I had no material, other than what I wrote at the restaurant earlier and it was not what I would call stelar material. Actually, I can only remember one thing I did that night.
There was this guy sitting in the front row who was drinking pretty heavily. Occasionally, he would say something to the comics. Luckily, since he was so hammered, his witty interruptions were mainly along the lines of, "Blarghhaargh a plaphloey. YOU SUCK!" Now, this may have been hilarious in his head, but to the rest of the room it was annoying, drunk guy speak. Most comics were either shutting him down  pretty quickly or more commonly, ignoring him completely. One thing I always remembered hearing was never ignore a heckler. You are in charge on stage not them. So, when Drunky McPeesalot thought he'd let his 2 cents be heard on this first-time comic's dying night. I knew I had to say something.
In my head it was one of those perfect comedy moments. Heckler takes a shot at you and without missing a beat you fire back at them with the perfect one-liner that both puts them in their place and tells the rest of the room that they are seeing absolute genius at work. A miracle of timing worthy of funny Jesus or Bill Hicks (even though they didn't know who Bill Hicks was  in 1985 so funny Jesus still works better). That's the way I remember it, so that's my reality, ergo THAT'S REALITY! How could it have gone any other way. All I remember is he said some drunken slur at me and I fired back at him "Buddy, you are the hugest waste of an orgasm I've ever seen!" Then I remember the crowd laughing for the fist time since I walked on stage. Then it felt like I couldn't do anything wrong. I took a few more shots at my compadre in success and left before I had to come up with anything else.
That was it though. I was hooked. I loved the art of stand up. I especially loved when people laughed, or more to the point, I loved when people laughed at the things I wanted them to laugh at. I don't know who deserves my appreciation more that night. Ian for being a dink and putting me in that position or Inibriato the clown, for giving me the opening I needed for that night to feel like a success. Probably both equally.
Now, 25 years later I'm still doing comedy, but only in the past two have I felt like a real comic. I have really begun to find the voice I want to do. The audiences seem to like it. So what now?
Glad you asked.
When I moved back to Montreal, all of my friends that were struggling open mic-ers with me, were now touring and running their own rooms. That's what I wanted. I wanted my own room. I love organizing events and I know comedy and how it works. I just needed a product to sell. Then one night while doing karaoke at a pub after a show, I got talking with the manager about comedy and one thing lead to another and he said he'd love to try a comedy night. The birth of my show Holy Crap!
We did the first show 2 weeks later with a little bit of promotion. One of the things about comedy is that having a specific idea or theme for your show makes it a lot easier to sell. I didn't have anything for this other than some great talent, but I wanted a hook. Luckily, the venue was more than happy to provide that to me. When I got to the show I was talking to people outside, regulars who came out to see the show, and they kept saying, "I hope you don't mind if we heckle you." My mind went back to that first night. "Please do! Just know this… you started it." And they did. Every one of my performers that night had some yabbo in the audience say something stupid to them and every one was shut down with force. Kris Dulgar made some girl resort to hiding behind the bar becasue she physically wanted to get away from his abuse. It was fantastic. They said shit to us. We made 'em look stupid. The perfect example of a symbiotic relationship.
That was it. I knew I had the show I wanted to produce. Holy Crap! would then become the rowdiest night in comedy. I want you to come out to the show and bring your A-game. I want to have THE abuse show. The audience will get involved with the comics and the comics will heap the abuse right back. This is something I would want to see. So will others I think.
So, if you're not doing anything on March 8, and you probably aren't let's face it, (You can watch United States of Tara in reruns, fancy man) come down to the Cock n' Bull and get involved in the show. This idea will only be as good as you guys let it be. I want you to make it fucking mean as hell. I want this night to be an homage to Cirrhosis McLiverpants my dream heckler who will always be… a true waste of an orgasm.
:Comedy, hecklers, Holy Crap!, Ian Boothby, Kris Dulgar, stand-up