Tag: religion
by Egoslut on Jan.09, 2010, under Shows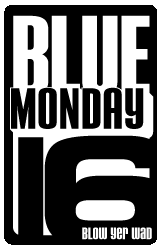 Blue Monday is back again. This time it is headlined by yours truly and will have one of the best lineups of the year so far. Especially since it's the first show of the year. So we've got that going for us. Me, Paul Ash, Bruno Ly and a  bunch of other awesome people. So come on out for the crazy filthiness that is Blue Monday.
---
Katacombes Showbar
1635 St-Laurent (at Ontario)
Leave a Comment
:Blue Monday, Devil Dan Derkson, Paul Ash, politics, religion, Sex, stand-up
more...
by Egoslut on Jul.09, 2009, under Shows
O come all ye faithful to something guaranteed to rock your faith. Interactive evil productions brings to you The Blasphemy Show, a night of religious hysteria. This is a show I've been working with Peter Radomski to put together for a while. It has all been confirmed so I can officially announce it.
The Blasphemy Show is a night of stand up all centered around religion. All religions will be considered suspect and no religion will be safe. Best of all, it happens on Easter. Do you know why Jesus came back to life after three days? TO SEE THIS SHOW!!!!
The lineup will be one of the strongest I have had the pleasure of working with too. With Mike Meo (Catholic), Asaf Gerchak (Jewish), Faisal Butt (Muslim), Karl Knox (Christian with an unhealthy obsession), headlined by Peter Radomski (another Catholic) and hosted by myself Devil Dan Derkson (former Jehovah's Witness now a Satanist).
Ticket's will be $15/$12 in advance (Get tickets here)
Check out all the details at the website.
---
The Blasphemy Show
Katacombes Showbar
1222 St-Laurent (just below Ste-Catherine)
Leave a Comment
:Asaf Gerchak, Comedy, Faisal Butt, Karl Knox, Mike Meo, Peter Radomski, religion, stand-up, The Blashphemy Show
more...