by Egoslut on Aug.01, 2009, under Shows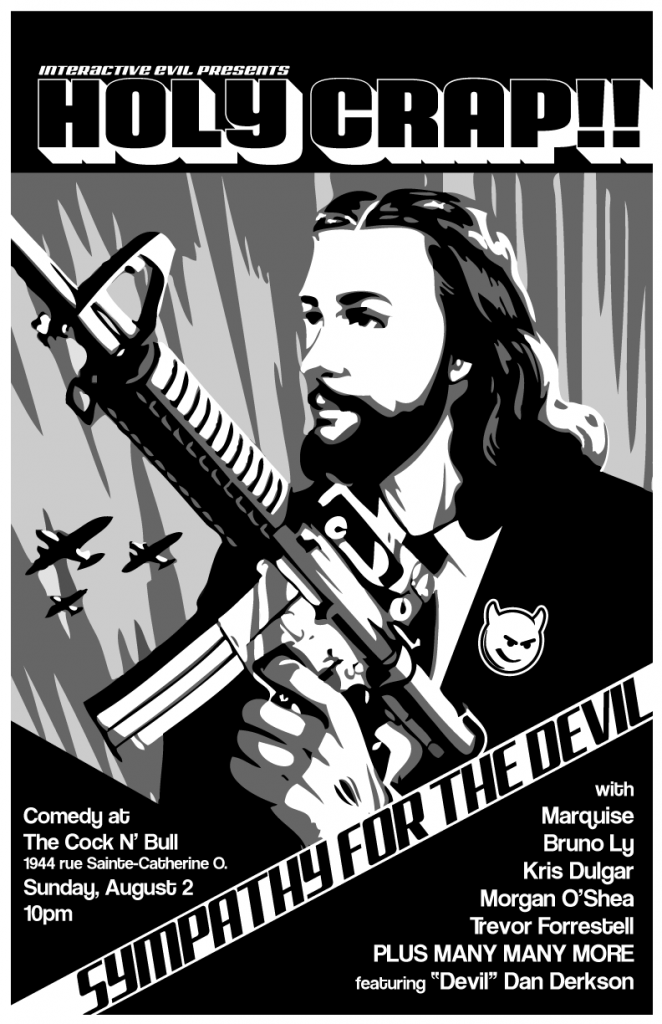 Forty-two years ago a man walked into the world with two destinies. One was to bring the angriest comedy show in Montreal to fruition. The other was to successfully cross-breed a goat with a waffle iron. Guess which one is happening this night!
Oh yeah, and there's another Holy Crap! coming too. That's right, Montreal's rowdiest comedy show is back and is fully armed!
Interactive Evil productions' monthly comedy show includes the best in Montreal comedy and the best in Montreal's rowdy, drunken bar patrons and puts them together for single night of no holds barred amusement.
This show is fast becoming THE show to see and we fucking dare you to come out and join in the fun. This is the only show that wants you to heckle and say something. Hell… it double-dog dares you.
Performing this month: A plethora of awesome comics including, Paul B, Marquise, Bruno Ly, Paul Ash, Kris Dulgar, Barry Carter, Natacha Filion, Morgan O'Shea, Trevor Forestell and Christophe Davidson.
As always, it is hosted by the only man to banned from a comedy club for religious reasons and the man who turning the age of life, the universe and everything, Devil Dan Derkson.
Best part is…. IT'S FREE!
So, come on down to the Cock n' Bull and enjoy the evil birthday clown of comedy.
---
Holy Crap!
The Cock 'n Bull
1944 rue Sainte-Catherine Ouest
Montréal, QC H3H 1M4
:birthday, Christophe Davidson, Cock 'n Bull, Comedy, hecklers, Holy Crap!, Kris Dulgar, stand-up