Tag: Chason Gordon
by Egoslut on Sep.24, 2009, under Shows
I'm doing a  new show this Saturday. It's something my buddy Paul Aflalo puts together and it sounds like a riot. It's got Comedy, Music, Dancing, a Reading, a Movie! All to celebrate two years of the Monthly Mess!
Music from
Plus, A Perfect Harmony, a film by Tristan Borys, Aimee Mannella and Daniel H.G. Weir. Reading and Projections by Jeff Gandell. "Why are you being a dick?" a dance by Sylvain Verstricht and Rebecca Louder.
And finally, comedy from Dan Derkson, Chason Gordon, David Heti and your host for the night… Asaf Gerchak!
It looks to be a freakin' riot so come on out.
---
Indyish Monthly Mess

Centre Chat Bleu
435 Beaubien Ouest, 4th Floor
(Two Block West of Parc Avenue; Closest Metro, Parc)
Leave a Comment
:Asaf Gerchak, Chason Gordon, Comedy, David Heti, indy, Indyish Mothly Mess, Montreal, music, Paul Aflalo, stand-up
more...
by Egoslut on Aug.16, 2009, under Shows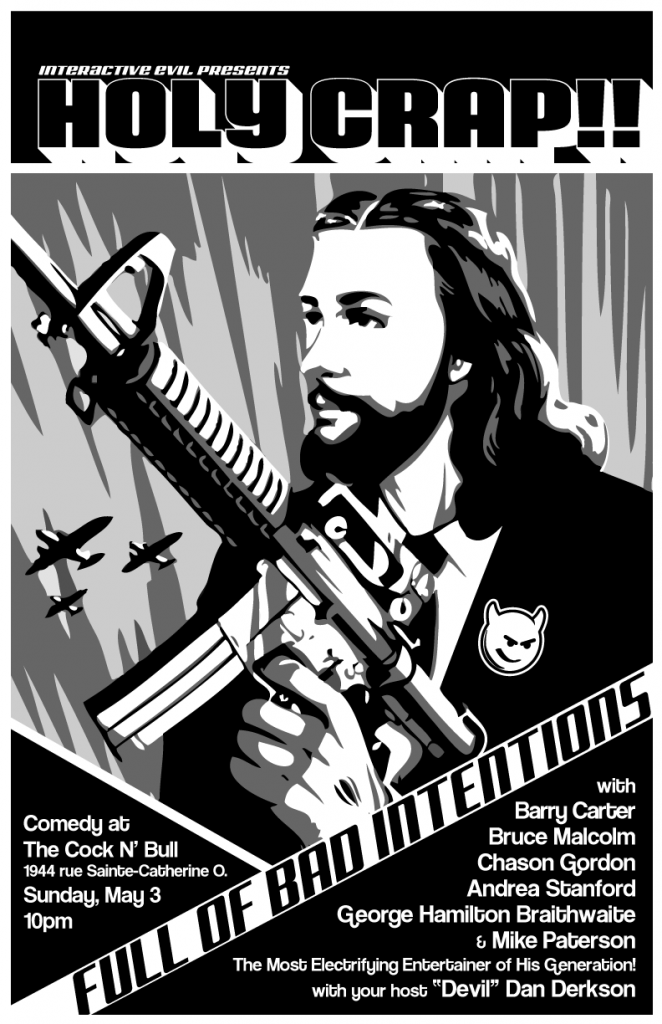 So picture this… you're standing in a revolving door. You press hard against the sides preventing anyone from moving it. The crowd grows larger and larger as well as more and more frustrated. The whole time you smile the biggest grin. The kind of grin that says, "You people are so fucking stupid. There are pull doors on either side of this revolving door. Use them fuckwads!" Of course you didn't know that those doors were locked and that everyone was just responding to the bomb threat you called in…
Oh yeah, and there's another Holy Crap! coming too. That's right, Montreal's rowdiest comedy show is back and full of bad intentions!
Performing this month: Barry Carter, Bruce Malcolm, Chason Gordon, Andrea Stanford, George Hamilton Braithwaite and featuring Mike Paterson (The Most Electrifying Entertainer of His Generation). As always, it is hosted by the only man to banned from a comedy club for religious reasons and the unheard from 13th cylon, Devil Dan Derkson.
Best part is…. IT'S FREE!
So, come on down to the Cock n' Bull and enjoy the bomb threat of comedy.
---
Holy Crap!
The Cock 'n Bull
1944 rue Sainte-Catherine Ouest
Montréal, QC H3H 1M4
Leave a Comment
:Andrea Stanford, Barry Carter, Bruce Malcolm, Chason Gordon, Cock 'n Bull, Comedy, Dan Derkson, George Hamilton Braithwaite, hecklers, Holy Crap!, Mike Paterson, stand-up
more...